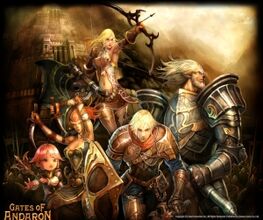 New pages
Welcome to the Gates of Andaron Wiki
The Gates of Andaron wiki is here to help out the very players of the game Gates of Andaron. A game published by Gameforge 4D in North America. Gates of Andaron or GOA for short is a game taken from 4story to be in the North America sector. 4story is a copyrighted by Zemi Inc. who partnered up with Gameforge 4D to host the game in North America. Now since this wiki page is still under construction it wont have as many resources as you may need. Although in the future it will contain most of the resources you will need! Such things will be included like Quests, Monsters, NPC's, Item's,and much more! Yes i know most of these things you can find on the GOA's Encyclopedia, but some people find that very vague and so I made this! Have fun searching through for the stuff you need! Now if there is anything that I may have missed or that you want me to add please contact me at acisvene@live.com!
News
Welcome to the Gates of Andaron.
The item shop has been launched!

Hello Gates of Andaron fans, the time has finally come for buying great new items in the shop that cannot be found anywhere else! Discover the worlds more quickly with a new mount or improve your weapons with mysterious scrolls and potions!
Check it out now!

Your Gates of Andaron Team
---
Gates of Andaron is Published by Gameforge 4d GmbH. Copyright Zemi Inc. All rights reserved by Gameforge 4D GmbH and Zemi Inc. In no way do I take any credit in the making of Gates of Andaron. All the pages in the Gates of Andaron wiki belong to them.